Top 3 Best Road Bikes Under £1000 (May 2021)
Updated - May 1, 2021
Looking for the best road bikes under £1000 comes with its own headaches. Road bikes can cost several thousand pounds so are you getting a good bike for less than £1000? Well that's a good question, in terms of the grand spectrum of bikes available the £1000 mark is probably high in the 'mid-tier' range. The bikes available for this price have good features and look sleek and well designed. Another benefit of this price range is it's quite commonly the price range used by most riders. That means reviews are easy to come by. We've used a combination of first hand experience and researched reviews to compile a list of road bikes under £1000.
With a budget of £1000 it's possible to find a good road bike. A road bike that will hopefully last several years and need minimum maintenance due to its quality and design.
Lightweight
Lightweight road bikes will be our main focus with a budget of £1000. £1000 allows us to look at both aluminium and carbon composite bike frames. With an aluminium frame our road bikes will be much lighter than bicycles with a steel frame construction. A road bike sporting a carbon fibre frame will pack even less weight.
We only consider a bike whose price point offers great value for money, ride comfort, commuting potential and top performance when compared to other bikes within the £1000 groupset.
Brakes
Mechanical disc brakes are something that £1000 allows us to consider. A wide range of disc brakes are available on road bikes. We'll be looking to add some options to our recommended road bike list that have disc brakes within our budget.
Carbon Fibre
Carbon fibre isn't a deal breaker at the £1000 budget. We want to choose the right disc brakes, carbon or aluminium frame and handlebars to make our cycling enjoyable all the time. Especially if you spend time long times riding on a range of different roads and race tracks. A comfortable ride and riding position are important as we do our best to stay within our price point range.
Summary
Balancing a road bikes value for money against its endurance and specialised design can make getting the road bikes specification a difficult job. You can expect the best road bikes under £1000 to provide a comfortable ride. This is because they're lighter and more durable than the lower tier 'cheap road bike' bikes. You can also expect the best examples to come with an aluminium frame, front full carbon fork, possibly internal cable routing and excellent riding position.
After all the latest road bikes have been designed to ride quick while maintaining comfort regardless of speed.
Alloy wheels might become affordable with some of the best cheap road cycling options around our guide price. Steel is solid but isn't as lightweight. Full carbon fibre would be the dream however might not match out price point.
Hopefully the list below will give you some indication of the best road bikes under £1000 on offer and what great value bikes you can get in your price bracket.
Our team have noticed some of the products on this list have very low stock in some regions. You may want to consider some of our other lists in the
Road Bikes
category.
Vitus Energie Cyclocross Bike (Apex)
✔ Lightweight Durable Alloy Frame
✔ Internal Cable Routing
✔ SRAM Hydraulic Disc Brakes
✔ Full Carbon Tapered Forks
A highly versatile machine for commuting, training, and racing
Tough and Light Alloy Cyclocross Frame
With its triple-butted 6061-T6 alloy frame and full carbon fork, this extremely capable bike offers the perfect balance of control and comfort. There's also a 27.2mm seatpost to improve the comfort even further, whilst the dialled-in geometry of a longer top tube and shorter stem work together to improve handling. You'll truly appreciate this on tight and technical courses or when navigating built-up areas on your commute.
SRAM Apex Components
Equipped with a race-ready single ring chainset with an X-SYNC 40T chainring and a drivetrain that's organised around SRAM's Apex 1 Hydro groupset, the Energie CX bike is designed to thrive on the loosest, muddy 'cross courses. The Apex hydraulic disc brakes, tubeless-ready WTB ST i21 CX /Novatec wheelset and Vitus' own finishing kit complete this solid package. There are even bottle cage and mudguard mounts to expand the potential for all year multi-purpose use.
Wide Tyre Clearance
Vitus has obsessed over every single detail with the Energie's cyclocross race-ready frameset. From the much-increased mud and tyre clearance to the internal cable routing to prevent mud and water ingress and increase shouldering comfort, this bike has it all. Boosting the performance further still, the beefed-up blades on the high-modulus T700 HM-UD full carbon forks ensure precise tracking and steering to help you to handle the rigours of competitive cyclocross racing.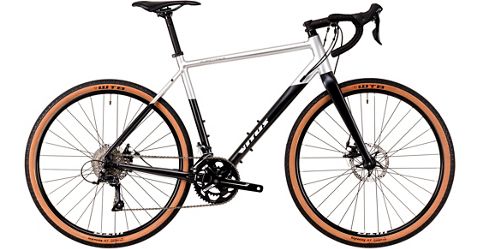 Vitus Substance V-2 Adventure Road Bike
✔ TRP Spyre C610C Mechanical Disc Brakes
✔ Lightweight Aluminium Frame
✔ 10 Speed Shimano Gearing System
✔ Internal Cable Routing
Specifically designed for gravel use, the Vitus Substance V-2 Adventure Road Bike offers incredible control on mixed terrain conditions.
Whether you're commuting to work or navigating across the countryside hills, this gravel bike is engineered for top-performance. Coming equipped with UD carbon forks, it provides incredible stiffness when climbing as well as not weighing down your ride when descending. This makes it perfect for tackling every riding situation while also enjoying a smooth and dependable riding experience on mixed terrains.
FSA Vero Pro Crankset and TRP Spyre Mechanical Disc Brakes
Ready for adventure, this high-quality road bike is kitted out with an FSA Vero Pro crankset. This makes it easy to accelerate up to speed in seconds, while it provides you with outstanding torque-power on every mile. Vitus has also equipped this gravel bike with TRP Spyre mechanical disc brakes, which allows you to maintain your momentum thanks to their outstanding stopping power.
WTB ST Wheelset with WTB Byway Tyres
Fitted with a WTB ST wheelset and WTB Byway tyres, this road bike is prepared for fast and fun adventures. Using its tyre's larger outer diameter, this adventure road bike delivers exceptional grip and smoothness when riding across uneven gravel surfaces. One final highlight, is this gravel bike's wheels and tyres are tubeless-ready. This means you can simply install the supplied valves and add sealant if you want to run a tubeless set-up.
Tommaso Sentiero
✔ Durable Aluminium Frame
✔ Avid BB5 Disc Brakes
✔ 24 Speed (3x8) Shimano Claris Gearing System
✔ Comfortable Drop Handlebars
The Sentiero Road Bike is a premium, entry-level road bike that is built with disc brakes, an aluminium frame and all the features you need to ride everyday.
Sentiero road bike is a great choice for those seeking a premium, reliable and trustworthy entry level road bike. One for those who want a solid, durable bike that's also attractive and comfortable. The Sentiero Road Bike comes equipped with disc brakes and a high-quality aluminium frame.
You're a real adventurer. You love the outdoors and you love exploring new roads. You're a rider with a disc-brake road bike, and you need to feel the wind in your hair. And that's why we made Sentiero, the most affordable road bike possible. Made from premium aluminium tubing, it features disc brakes for superior stopping power (plus they look slick). It's also equipped with fenders and rear rack so you can take it places other bikes can't go.
This is a real road bike. It's not a mountain bike. It's not a touring bike, and it doesn't have any of those fancy wheels. This is a road bike with disc brakes and an aluminium frame. It has all the upgrades that make it the most reliable and most trusted commuter in the world. The Sentiero is an entry level road bike design with disc brakes that is perfect for commuting. Its aluminium frame is lightweight and durable. The steel rims provide superior durability and the high quality components make it easier to maintain.
We love this bike & from the past customer reviews we considered as part of our research, it's a worthy addition to our list.
What's the best road bike I can get for £1000?
If your budget is £1000 then you're on the right review list. This list contains all bikes that we recommend after researching countless sources, reviews and articles. Our lists may not be as vast as some other websites out there but we firmly believe in honesty above all else. We only put the bikes that we feel 'make the cut' into our review lists so you can be sure you're looking at some great options if you're in the market to buy.
What are the best road bikes for the money?
This is a very difficult question, simply because 'for the money' could mean any price range. We've done our best to split the price ranges into individual pages filled with the road bikes that we think are the best options on the market right now. We update these lists regularly and do our best to make sure we only provide reviews for bikes that are readily available.
What are the best road bikes for beginners?
Beginners are sometimes inclined to get the cheapest option available to them. After all, they're not sure this is something they will continue or even enjoy in the first place. Our most appropriate advise in this situation is that although investing huge amounts is not advisable, if you were to get the cheapest bike on the market it may cause your experience to be worse than if you were to get a well reviewed 'beginners' model reviewed by those that know the industry well. We'd highly recommend you take a look at some of our cheaper price road bike review lists before making a decision on what to choose. That way at least you know that the bike you choose is good enough that is has at least made it onto our list. We update these lists regularly so you can be sure you'll find the best bikes on the market within these lists.
Are cheap road bikes any good?
The definition if cheap is important in this answer. If by cheap we simply mean the the road bike doesn't cost a huge sum of money, then it is possible that this bike could still be quite good. Although if the bike isn't costing you that much and the seller is to make a profit, the components must be collectively cheaper than the price you pay for the item. If however the definition of cheap is directly aimed at the component and materials used then more often than not a cheap road bike is not a good investment. We recommend viewing our 'Best Road Bike' product reviews for every budget to make sure you find a bike that is less 'cheap' and more of a 'bargain'.
What is a good price for a road bike?
Road bikes much like cars, come in all sorts of models, designs and finishes. Many have technological and engineering adaptations that can add hundreds if not thousands of pounds to the price tag. A good price for a road bike is one that falls within your budget yet provides you with a bike that is better than all the others also within your budget. A vague answer I know, but as specific as can be for the question at hand. We only put road bikes on our review lists that we feel are good enough to be deemed the best in their market. Take a look one of our road bike review lists that suits your budget.