Top 5 Best Hybrid Bikes Under £1000 (October 2020)
Updated - October 1, 2020
Hybrid bikes come in a wide range of prices and, while there are some great deals to be had, the general rule of thumb is that you get what you pay for. The good news is that £1000 should be more than enough to get yourself a nice option for a range of hybrid bikes without compromising too much in terms of features or quality.
Hybrid bikes combine the efficient ride of a road bike with the stable handling and wide gear range of a mountain bike. Often known as urban bikes, hybrid bikes are ideal for commuting to work as well as leisure cycling and fitness training.
Some hybrid bikes are equipped with a front or cargo rack, or both. These are designed for urban riding and your commute where you want to bring some things with you, such as groceries, a gym bag or other equipment. Depending on the racks, you might need pannier bags or a elastic straps to hold down your bag. Racks might be firmly installed or removable.
Hybrid bicycles blend characteristics from more specialised road bikes, touring bikes and mountain bikes. The resulting "hybrid" is a general-purpose bike that can tolerate a wide range of riding conditions and applications. Their stability, comfort and ease of use make them popular options for individuals looking to commute, cyclists who are looking for a casual ride and even children or anyone who has little or no experience in cycling. With £1000 to spend on the best hybrid bikes we're likely to find some promising options. Especially since initial analysis saw that hybrid bikes under £800 is a pivotal price point
What To Expect
The best hybrid bikes under £1000 are highly likely to have simplistic aluminium frame design. Hybrid bikes often comes with additional features such as mudguards, a pannier rack, a kickstand and dynamo lighting. With a budget of £1000 we're going to be on the look out for some of these very features. Performance components however may still be a little out of our price range. Components such as carbon fiber frame material, disc brakes, suspension fork and branded tyres.
What Is A Hybrid Bike?
Despite a hybrid bike having similarities to a combination of a road bike and a mountain bike by choosing one of the budget hybrids you're likely to end up with a bike that lacks practicality. This is due to the hybrid bike trying to be the answer of everything but master of nothing. Riders of hybrid bikes will find that they are slower on pavement than conventional road or touring bikes. Hybrids might also be found lacking in the traction department when riding uphill or traversing uneven or slick surfaces. The pros of this type of bike at this price range are that you can find some great entry level bikes. Some with alloy frame composition and perfectly capable rim brakes.
Hybrid bikes come suitable for all, you can buy a hybrid bike for women and for men. The riding position of a hybrid is suited to those that sit more up right that on a road bike. Hybrid bikes usually have gears and the quality of these components will depend on the budget being spent. Hybrids can be used for recreational purposes, as commuters , for touring, or for fitness training. These versatile bikes come equipped with many of the same features that you'll find on road and mountain bikes. They're built for comfort and speed and have a durable frame that's designed for daily use.
We've collected a list of the best hybrid bikes under £1000. Hopefully it will help you find the perfect budget bike you're looking for.
Some of our recommended products are currently unavailable. When this happens we try to source these products from elsewhere however sometimes we provide a 'similar product' as a temporary solution. Rest assured the team stock check on a daily basis and will return the original product as soon as possible. This message is showing because at least 1 product on this list is currently unavailable or being sourced from an alternative location.
Vitus Energie Cyclocross Bike (Apex)
✔ Lightweight Durable Alloy Frame
✔ Internal Cable Routing
✔ SRAM Hydraulic Disc Brakes
✔ Full Carbon Tapered Forks
A highly versatile machine for commuting, training, and racing
Tough and Light Alloy Cyclocross Frame
With its triple-butted 6061-T6 alloy frame and full carbon fork, this extremely capable bike offers the perfect balance of control and comfort. There's also a 27.2mm seatpost to improve the comfort even further, whilst the dialled-in geometry of a longer top tube and shorter stem work together to improve handling. You'll truly appreciate this on tight and technical courses or when navigating built-up areas on your commute.
SRAM Apex Components
Equipped with a race-ready single ring chainset with an X-SYNC 40T chainring and a drivetrain that's organised around SRAM's Apex 1 Hydro groupset, the Energie CX bike is designed to thrive on the loosest, muddy 'cross courses. The Apex hydraulic disc brakes, tubeless-ready WTB ST i21 CX /Novatec wheelset and Vitus' own finishing kit complete this solid package. There are even bottle cage and mudguard mounts to expand the potential for all year multi-purpose use.
Wide Tyre Clearance
Vitus has obsessed over every single detail with the Energie's cyclocross race-ready frameset. From the much-increased mud and tyre clearance to the internal cable routing to prevent mud and water ingress and increase shouldering comfort, this bike has it all. Boosting the performance further still, the beefed-up blades on the high-modulus T700 HM-UD full carbon forks ensure precise tracking and steering to help you to handle the rigours of competitive cyclocross racing.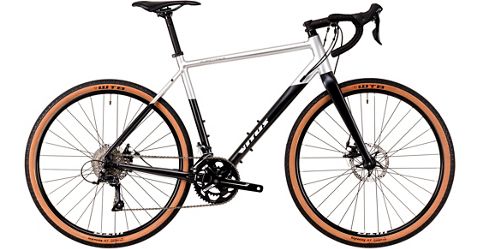 Vitus Substance V-2 Adventure Road Bike
✔ TRP Spyre C610C Mechanical Disc Brakes
✔ Lightweight Aluminium Frame
✔ 10 Speed Shimano Gearing System
✔ Internal Cable Routing
Specifically designed for gravel use, the Vitus Substance V-2 Adventure Road Bike offers incredible control on mixed terrain conditions.
Whether you're commuting to work or navigating across the countryside hills, this gravel bike is engineered for top-performance. Coming equipped with UD carbon forks, it provides incredible stiffness when climbing as well as not weighing down your ride when descending. This makes it perfect for tackling every riding situation while also enjoying a smooth and dependable riding experience on mixed terrains.
FSA Vero Pro Crankset and TRP Spyre Mechanical Disc Brakes
Ready for adventure, this high-quality road bike is kitted out with an FSA Vero Pro crankset. This makes it easy to accelerate up to speed in seconds, while it provides you with outstanding torque-power on every mile. Vitus has also equipped this gravel bike with TRP Spyre mechanical disc brakes, which allows you to maintain your momentum thanks to their outstanding stopping power.
WTB ST Wheelset with WTB Byway Tyres
Fitted with a WTB ST wheelset and WTB Byway tyres, this road bike is prepared for fast and fun adventures. Using its tyre's larger outer diameter, this adventure road bike delivers exceptional grip and smoothness when riding across uneven gravel surfaces. One final highlight, is this gravel bike's wheels and tyres are tubeless-ready. This means you can simply install the supplied valves and add sealant if you want to run a tubeless set-up.
BIKFUN Folding Electric Mountain Bike
✔ Front And Rear Mechanical Disc Brakes
✔ Bright LED Headlights And Horn
✔ Compact and Lightweight Foldable Bike
✔ Arrives 85% Assembled
The BIKFUN folding electric mountain bike rides smoothly and makes almost no noise.
Three Modes to Meet Diverse Needs: There are three working modes, among which are normal mode, electric mode and power assistance mode. The modes can be switched at any time and just enjoy your trip with your mind.

More Flexible Design: Compact and lightweight, this lovely bike is foldable and can be taken away after folding and put in the trunk of a car. Adjustable handlebars and saddle heights suitable for different heights of people.Battery can be removed for easy charging. The bright LED headlights and horn are ideal for night cycling.

Brake and Gear Shift System: Electric folding bike is equipped with mechanical disc brakes on the front and rear, and that features it perfect climbing ability and high shock absorption, and achieve fast braking once you press the brake.

Battery and Motor System with High Performance: The 36V / 7.8Ah lithium battery is equipped with an intelligent charger, and your bike will be full of energy by chargeing only for 4 to 6 hours; 250W high speed gear motor with lower power consumption could able to reach a speed up to 25 km/h.

Installation and Customer Service: This ebike achieves 85% of assembly. Fast delivery allows you to get your loved bike as soon as possible. The main electrical devices, e.g. batteries and electric motor, are guaranteed for one year. And you are welcome to contact us if you have any problems!
The BIKFUN Folding Electric Mountain Bike has an approximate radius of 15 to 30 miles on a full charge and can reach a top speed of 15mph. The 36V 8Ah lithium battery is removable and takes approximately 4 to 6 hours to fully charge. The lithium battery powers a 250W brushless high speed geared motor that previous customers have described as 'silent' which is great because no one wants a constant 'moped' noise while they're out and about.
The bike folds away for easy storage or transportation. We think this is a great bike and is cheaper than many of the competitors that have similar features. Well worth considering.
Lixada HIMO C20 Folding Electric Bike
✔ 250W Powerful Electric Motor
✔ Up To 19mph
✔ 10Ah Lithium Battery Allows 31 Mile Range
✔ Front And Rear Mechanical Disc Brakes
A solid candidate when compared with its competitors folding electric bikes. The C20 has some very nice features to give the rider the perfect experience.
This electric bike is constructed from aluminium alloy, strong enough to support a maximum user weight of 100kg. The bike features 250W powerful motor, 25km/h max speed, Shiman0 shifting system and double braking system. With collapsible design, this electric bike is very convenient for commuting.
The Lixada HIMO C20 electric bike is built from aluminium alloy. This makes it strong enough to support the maximum rider weight of 100kg. The HIMO C20 features a powerful 250W motor with a top speed of 19mph. The 10Ah lithium battery allows for a range of up to 31 miles on a single charge in full electric mode. The onboard battery management system keeps the battery in tip top shape and makes sure that it doesn't get overcharged. Ensuring a longer service life.
The HIMO C20 has front and rear bright LED lights to added safety at night. The highly performant mechanical disc brakes stop the bike quickly and effectively adding to the assurance that this bike is extremely safe.
Lixada have designed a bike that is perfect for those short, urban, daily commutes to work or the shops. The HIMO C20's foldable nonslip pedals and handlebars help make for easy storage. Whether at home, the office or in the car boot, you'll be able to fold the HIMO C20 away in even the smallest of spaces.
We think it's a strong example of what you can get for an average budget. What do you think?
Hawk Trekking Deluxe Hybrid Bike
✔ Shimano Alivio 9 Speed Gearing System
✔ Comfortable Trekking Selle Wave Saddle
✔ Rear Pannier Rack
✔ Free Bag (While Stocks Last)
A bike that can get you and all your gear from A to B easily. It's comfortable, has enough features to keep you content and looks great. What's not to like?
The Hawk Trekking Deluxe hybrid bike comes with a waterproof bag that easily attaches onto the rear cargo rack with a simple click mechanism. Being able to carry luggage directly on the bike rather than on your back is a real benefit. The bike also comes with a waterproof seat cover so you can keep the seat dry if your bikes left out in the rain. You've also got a kickstand for when you're stationary and a bright LED flashlight at the front of the bike to see and be seen.
The Trekking Deluxe has some high quality components including the Shimano Alivio 9 speed gears and premium mechanical disc brakes. You've also got front and rear mudguards to keep you protected from ground water and debris.
Upon arrival you need to align the handlebars (they are purposefully mis-aligned for easy packaging), adjust the saddle height and check your tyre pressures.  A great bike for a fair price.