Top 4 Best Gravel Bikes Under £2000 (April 2021)
Updated - April 1, 2021
The latest generation of gravel bikes under £2000 can be ridden almost anywhere. They are ready for adventure usually equipped with high performance brakes, wide tyres and a comfortable durable frame. These bikes are able to adapt from tough terrain through to slick road surfaces.
Therefore gravel bikes are ideal for the days that you're unsure where your adventure will take you. In short you're in good hands with a gravel bike as you'll know it's capable of getting you where you want to go under almost any circumstance.
Our team have noticed some of the products on this list have very low stock in some regions. You may want to consider some of our other lists in the category.
Some of our recommended products are currently unavailable. When this happens we try to source these products from elsewhere however sometimes we provide a 'similar product' as a temporary solution. Rest assured the team stock check on a daily basis and will return the original product as soon as possible. This message is showing because at least 1 product on this list is currently unavailable or being sourced from an alternative location.
Vitus Energie Cyclocross Bike (Apex)
✔ Lightweight Durable Alloy Frame
✔ Internal Cable Routing
✔ SRAM Hydraulic Disc Brakes
✔ Full Carbon Tapered Forks
A highly versatile machine for commuting, training, and racing
Tough and Light Alloy Cyclocross Frame
With its triple-butted 6061-T6 alloy frame and full carbon fork, this extremely capable bike offers the perfect balance of control and comfort. There's also a 27.2mm seatpost to improve the comfort even further, whilst the dialled-in geometry of a longer top tube and shorter stem work together to improve handling. You'll truly appreciate this on tight and technical courses or when navigating built-up areas on your commute.
SRAM Apex Components
Equipped with a race-ready single ring chainset with an X-SYNC 40T chainring and a drivetrain that's organised around SRAM's Apex 1 Hydro groupset, the Energie CX bike is designed to thrive on the loosest, muddy 'cross courses. The Apex hydraulic disc brakes, tubeless-ready WTB ST i21 CX /Novatec wheelset and Vitus' own finishing kit complete this solid package. There are even bottle cage and mudguard mounts to expand the potential for all year multi-purpose use.
Wide Tyre Clearance
Vitus has obsessed over every single detail with the Energie's cyclocross race-ready frameset. From the much-increased mud and tyre clearance to the internal cable routing to prevent mud and water ingress and increase shouldering comfort, this bike has it all. Boosting the performance further still, the beefed-up blades on the high-modulus T700 HM-UD full carbon forks ensure precise tracking and steering to help you to handle the rigours of competitive cyclocross racing.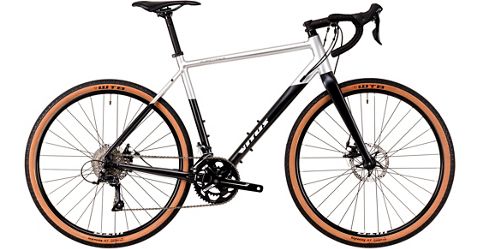 Vitus Substance V-2 Adventure Road Bike
✔ TRP Spyre C610C Mechanical Disc Brakes
✔ Lightweight Aluminium Frame
✔ 10 Speed Shimano Gearing System
✔ Internal Cable Routing
Specifically designed for gravel use, the Vitus Substance V-2 Adventure Road Bike offers incredible control on mixed terrain conditions.
Whether you're commuting to work or navigating across the countryside hills, this gravel bike is engineered for top-performance. Coming equipped with UD carbon forks, it provides incredible stiffness when climbing as well as not weighing down your ride when descending. This makes it perfect for tackling every riding situation while also enjoying a smooth and dependable riding experience on mixed terrains.
FSA Vero Pro Crankset and TRP Spyre Mechanical Disc Brakes
Ready for adventure, this high-quality road bike is kitted out with an FSA Vero Pro crankset. This makes it easy to accelerate up to speed in seconds, while it provides you with outstanding torque-power on every mile. Vitus has also equipped this gravel bike with TRP Spyre mechanical disc brakes, which allows you to maintain your momentum thanks to their outstanding stopping power.
WTB ST Wheelset with WTB Byway Tyres
Fitted with a WTB ST wheelset and WTB Byway tyres, this road bike is prepared for fast and fun adventures. Using its tyre's larger outer diameter, this adventure road bike delivers exceptional grip and smoothness when riding across uneven gravel surfaces. One final highlight, is this gravel bike's wheels and tyres are tubeless-ready. This means you can simply install the supplied valves and add sealant if you want to run a tubeless set-up.
FabricBike Commuter Hybrid Bike
✔ Twist Shifters Ad Tektro ML520 Ergonomic Brake Levers
✔ 8 Speed SRAM Shift Levers
✔ Newly Designed WTB Comfort V Saddle
✔ Tektro M280 Disc Brakes
This hybrid road bike really does look the part. We particularly like the frame design, how the top bar curves and thins at the same time. FabricBike have made a great looking commuter bike here.
A versatile hybrid urban bike ideal for commuting, building fitness, and exploring your local roads. Flat upright handlebars complement a more aggressive frame design for a comfortable and speedy ride. Built on a durable and lightweight 4130 chromoly steel frame set that is stronger than aluminium and can absorb more road vibrations. The frame set includes rack and fender mounts for hauling groceries or heading to work.
TheWTB Slick 700x32c tires minimise rolling resistance and provide cornering grip and water dispersion. Extra comfortable WTB cushioned saddle with broad sit bone support. Equipped with SRAM 8 speed to be fast on the road or to hustle up a sudden incline in style. The FabricBike can stop quickly as it's got Tektro M28 low-maintenance mechanical brakes for precise all-weather stopping power.
Here is an happy customers review of the FabricBike Commuter
"A very well made bike with quality parts. Great to ride and zippy. Feels very responsive on the road."
BEIOU T700 Toray Mountain Bike
✔ Carbon Frame Handle Bar and Seatpost
✔ Front and Rear Disc Brakes
✔ 26" Hydraulic Suspension Fork
✖ External Cable Routing
Great aesthetics, comfort and value for money.
The BEIOU T700 Toray Mountain Bike is our winner, an excellent option for best mountain bike 2019. This bike can withstand some pretty aggressive riding. The mountain bike comes with a really good set of tyres, no need to replace even the more serious riders will be able to get some use out of these tyres. The only issue here is the brakes and only if you're in the UK. The brakes are reverse in the UK and we've got reports that UK buyers are having to manually swap the break lines over, quite a simple task and we plan to put together a guide in the near future for those who aren't so sure.
The Beiou Toray mountain bike is a great looking bike that has a number of outstanding reviews online. I can understand why it's so well received due to its combination of great aesthetics, comfort and value for money.
The Beiou Toray mountain bike comes in a variety of colours ranging from red and black through to white. My personal favourite is the latter, the white Beiou Toray mountain bike is very impressive. It's simplicity matched with the chunky frame reminds me of BMX bikes, all it needs to complete the look would be some pegs on either wheel. As mentioned before, the frame is quite chunky without looking out of place, the white background colour is broken up by black decals of the brand name 'Beiou'. The frame is made of light and very strong carbon fibre. The seat post and handlebars are also carbon fibre which means the bike weighs very little.
The Beiou Toray mountain bike has a front suspension fork to help lessen the blow of any bumps the rider would otherwise feel the full impact of. The saddle is a sleek design with a white streak to break up the plain black design. The seat post is adjustable so the bike will suit most riders. The handlebars are also adjustable and lend access to the Shimano Altus 370 gear shifters as well as the brake pedals. Both are easy to use and offer smooth yet effective control of the bikes speed.
The brakes on the Beiou Toray mountain bike are disc brakes, mechanical wire G3 disc brakes to be precise. They are very reliable and responsive, I'm sure you'll be very happy with them, that being said it's always advised to get a new bike checked out by a trained professional, safety first readers.
The Beiou Toray mountain bike's wheel size is 26″, the bikes rims are Ruituo aluminium alloy and have several intricate patterns on them. These patterns are enhanced by the fact that the rim and tyre on both wheels are black. The tyres are Chaoyang 26″ with a light tread, I wouldn't imagine this bike is superb off road in heavy terrain but the benefit of a light tread is that you'll be fine to ride this on the road as a substantial amount of the tread will be gripping the road.
Overall this bike looks great, not because of some fancy frame or vivid colour scheme. It's difficult to put my finger on it but I think the combination of a nice white bike with a simple design is quite appealing when the market is full of 'try hard' designs.
Related Posts
Best Gravel Bikes Under £1500
The latest generation of gravel bikes under £1500 can be ridden almost anywhere. They are ready for adventure usua...
Best Gravel Bikes Under £1000
The latest generation of gravel bikes under £1000 can be ridden almost anywhere. They are ready for adventure usua...